General Policies and Registration
Open House: Usually occurs the last weekend in August. Dancers may register, tour our facilities; meet the instructors.(Visitors, guests are welcome at all times to tour / meet our teachers. Please call ahead.)
Register: by mail, phone or in person at Studio M. (office hours vary so please call ahead if in person) Payment (full or partial) is required at registration. We accept cash or checks. (Returned checks have a $20.00 charge) No Refunds (limited exceptions) A Studio M registration form (regular or temporary) needs to be filled out and signed by the dancer's guardian (if applicable) before participation begins.
Classes start: The Monday after Labor Day.
Tuition Dance Year
Classes: Are billed by individual class. Classes are held once a week for a specified length. (30 min., 45 min., 60 min.) Tuition is determined by adding individual class tuitions together. We also offer unlimited class tuition (per dancer). Dancin' is billed as a membership. We also have Dance cards and Pilates cards billed per class vs. dance year. Note: cards are not meant to replace class tuition. We have a Non-refundable: Registration Fee: late/ new/ non-continuing students - $15.00.
Payments: Tuition payments are accepted throughout the dance year for any amount, but must be paid in full by the time of the recital.
Costume Deposits: Costume deposits are due November 30th and are past due December 23rd in which a $10.00 late fee will be assessed to the deposit.

Recital Tee Shirts: Dancers choosing to be in the Finale' dance will need to purchase a recital tee shirt to be used as the costume for that dance. The Recital Tee order and payment is due April 30th. A later order may be available, but single tee shirt rates will apply.
Scholarships: 2 cleaning scholarships are available. Conditions apply. Please contact office if interested.
Dance Year: Studio M begins its dance year the Monday after Labor Day & ends with its recital on the weekend before Father's Day.
Summer Session: Studio M begins its summer session two weeks after the recital and ends two weeks before Labor Day. We also provide a summer intensive week usually held the middle week of the summer session.

Studio Policies
Health: Please inform us of all medical conditions at registration or as they occur during the year. Dancers should bring water bottles to class as water breaks are given. Proper Personal Hygiene is absolutely required.
Injuries: Studio M is not responsible for injuries occurring while on or near premises/during practices or performances.
Severe Weather: WEKZ for cancellations. We will also try and post notice on our answer machine and outside door. We usually go with the decisions made by the Monroe School District and the Pecatonica School District. If they are closed or have called an early dismissal, we are closed also.
Missed Classes: Make-up classes can be taken throughout the year, please inform instructor. Because of our liberal make-up policy, & built in extra classes for missed classes; refunds for missed classes are not given unless there are unusual circumstances which are at the Studio's discretion.
Breaks: We will take Holiday breaks with the Monroe School and or Pecatonica School System. A calendar will be available as needed.
Year-End Student Recital: All dancers are invited to participate in the recital. It is tentatively scheduled for the weekend before Father's Day. All students participating in the recital must attend the dress rehearsal held the Friday before the recital. Videos will be available for purchase. Videotaping is allowed but must not be a disturbance to the recital or audience. There is no flash photography.
Costumes: Deposits due Nov. 30. This is to insure timely delivery & discount from costume company. No refund on deposits. Balances are due when costumes come in. Once costumes are ordered, the balance is due even if dancer cannot perform. Students own recital class costumes. Studio Costumes or parts of will have rental charge.
Food: Allowed in studio lobby areas only or fees apply.
Non Dancers: Children other than dancers are welcome to the Studio, however they need to be supervised or child care fees apply.
Dress Code: All students will be expected to wear appropriate attire to class, this includes clothing, shoes, and hair.
Ballet, Pointe: leotard, tights, ballet skirt or tight shorts (optional), ballet/pointe shoes, hair secured off face in a bun (shorter hair secured back off face in best way).
Jazz: jazz pant or shorts and leotard or tight fitting top, tights, jazz shoe, hair secured back off face.

Tap: leotard, tights, jazz pant or shorts and top preferred; will accept most comfortable clothing, tap shoes and hair secured off the face.
Modern: leotard, tights, and shorts (optional), modern sandals, hair secured back off face.
Lyrical: leotard, tights, shoe varies (check).
Hip Hop: tights, comfortable clothes, tight top, acceptable hip hop shoes. All other dance classes please check with instructor for proper attire and hair. All clothing and shoes can be purchased through Studio M. If purchasing from other source, please check with instructor for proper clothing and shoes. All skirts must be ballet skirts. No jeans of any sort or hooded clothes are allowed on the dance floor. Dress will be leotard and tights if attire becomes an issue in class.
Class Behavior: Dancers are expected to maintain positive and productive attitudes in classes, rehearsals and performances in both the Academy and Dancin' Company. We expect the dancers to respect each other as well as their teacher. Talking out of turn, use of illegal substances and causing disturbances in class is not acceptable; dancers may be asked to leave at their own expense. Dancers are encouraged to arrive early to prepare themselves with hair and dress so class can start on time. Dancers are expected to dance the entire class time.
Observers: Classes are closed to observers. It is very distracting to have observers in the classroom. We need all of the attention focused on class.
Payments and Payment Schedule

:
Tuition can be paid yearly, semester, trimester, quarterly or monthly. Tuition is based on a dance year/summer session schedule, but can be changed to accommodate class changes or late registration. Tuition of Dancin' Company does not change. It is the same tuition regardless of when the dancer chooses to join. Tuition must be paid in full by the time of the recital or agreement with the office. Outstanding balances may prevent dancer from participating in the recital or costume purchase. Let the office know which payment schedule is best for you. When making payments, please mail it in or use the envelopes in the front of the office on the message shelf. Place the payment in envelope with explanation and dancer's name and place it in the payment box behind the desk. This will help minimize confusion between classes.
Communication: Notes are on message shelves in front of office or in dancer notes slots by door. Tuition invoices are placed in tuition box by door. Please check often. Call with questions/concerns or leave notes in payment box.
Conversations with the teacher: Brief, between class so class begins/ends on time. Do not disturb class in session.
Parking: In front of building and in west parking lot.
Lost and Found: Located in dressing room, check often. Left items (after year-end) donated to St. Vincent De Paul.
NO STREET SHOES ON ANY PART OF THE DANCE FLOOR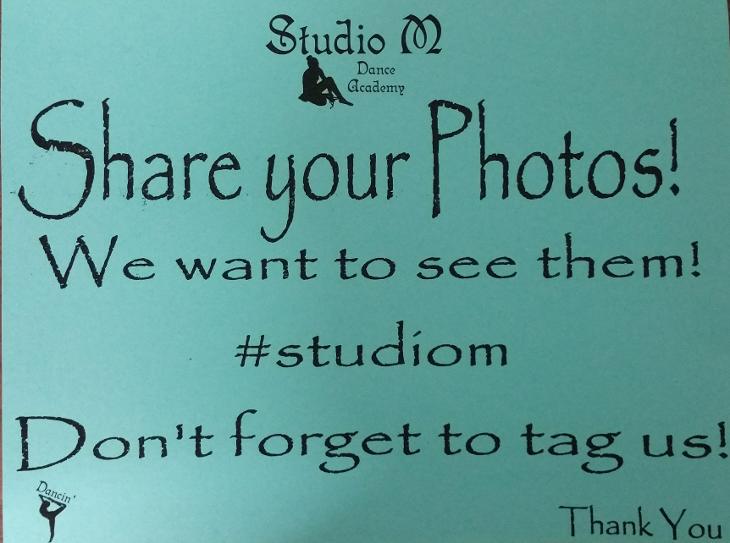 THIS YEAR (2018) WE BROKE OUR NO SOCIAL MEDIA RULE AND HAD OUR OWN RED CARPET AND OWN SOCIAL MEDIA ACCOUNT FOR THE WEEKEND. THERE WAS POSTING FRENZY AND IT WAS FUN!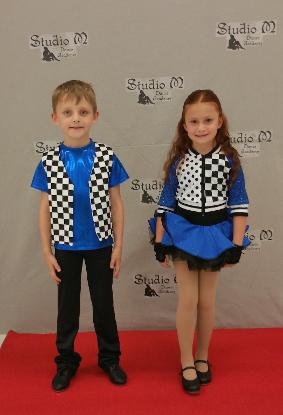 GRANT JORENBY AND MELODY HANSON, OUR YOUNGEST TAP DANCERS, ON STUDIO M ' S RED CARPET AT THE 2018 STUDENT RECITAL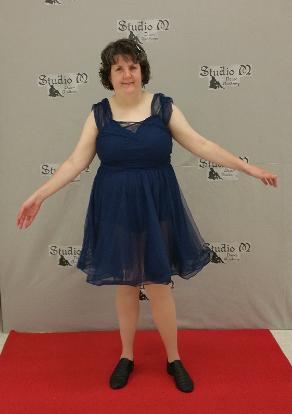 DANCER SARAH GAULRAPP ON STUDIO M ' S RED CARPET AT THE 2018 STUDENT RECITAL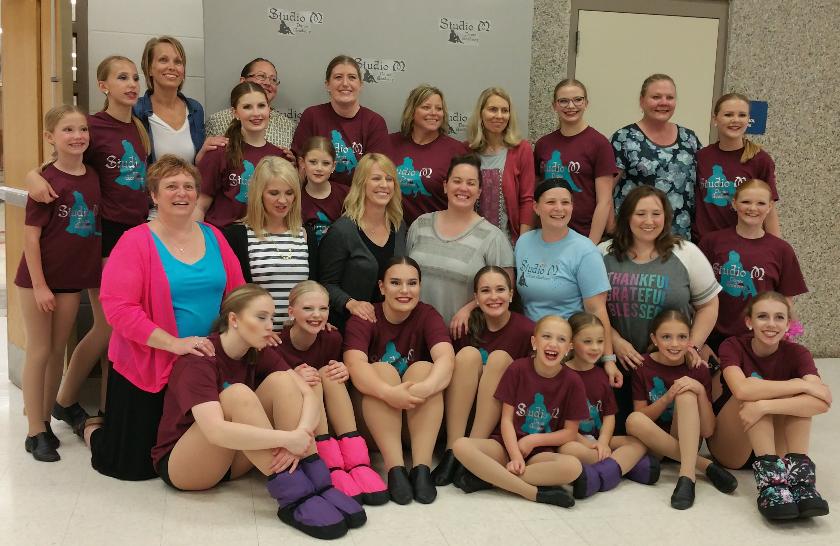 THIS COMPETITIVE COMPANY GROUP IS NEW JERSEY BOUND AND COULDN'T WAIT TO POSE FOR IT ON STUDIO M ' S RED CARPET.